At each party, the opportunity to offer a box of authentic chocolates
Boxes of chocolates to satisfy all tastes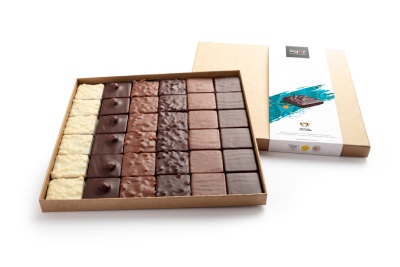 It is always interesting to know the preferences of your loved ones in terms of chocolate. If your other half, your parents, your colleagues or your friend like white chocolate , you can opt for a gourmet box made up of white chocolates with puffed rice. Why not introduce them to a selection of light and creamy truffles . Young and old will be delighted with the assortments and compositions of Sigoji chocolates .
Milk chocolate , a must in each of the "Discovery", "Gastronomy" and "Prestige " boxes , will delight lovers of ganaches or our peanut-based chocolates .
For fans of dark chocolate , you can opt for our boxes of intense chocolates with fruity, full-bodied or spicy flavors .
Customizable boxes of up to 36 pralines satisfy all tastes: passion fruit, mango, ginger, honey, coffee or Earl Grey.
Offer chocolates at the end of the year celebrations
Chocolate is greatly honored during the holiday season . Your artisanal chocolatier offers many selections to suit everyone's tastes. Thanks to our wide range of pralines and chocolate ganaches , the possibilities of assortments are endless , so trust your instincts!
Continuing the tradition of chocolate at Easter
Easter is a family holiday with the tradition of chocolate egg hunts . Sigoji offers 6 varieties of premium quality chocolate eggs, in 100g bags:
Intense black 80%;
Dark almond praline;
Intense milk 50%;
Hazelnut milk puffed rice;
Salted butter caramel milk;
White sparkling hazelnut praline.
The famous Valentine's box
Chocolate is one of the most popular Valentine's Day gifts . An assortment of pralines or truffles is a wonderful way to say "I love you". Accompanied by a bottle of champagne, Valentine's Day pralines make the tête-à-tête unforgettable !
Offering chocolates: a comforting attention
Offering pralines also makes it possible to express a sincere, friendly and comforting thought . You can offer a box of chocolates as a sign of gratitude or thanks, to motivate or give heartfelt comfort to a loved one.
Need more information to choose your box? Contact Sigoji
Sigoji, a Belgian chocolate maker , offers you selections of luxury chocolates for all occasions. Ask for more information online via our contact form or by contacting by phone , we will be happy to guide you.
Reviews
You must log in to give a review