The holiday season is the perfect time to please loved ones . This is also the time to thank your customers for their loyalty . Sigoji, a top-of-the-range artisanal chocolate factory , presents its various gift boxes of Belgian chocolates to offer during the end-of-year celebrations .
Which chocolates to choose to compose your gift box?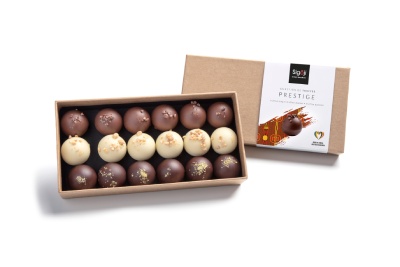 Chocolate is a safe bet that everyone generally agrees on . The gift is all the more original if it is high quality artisanal chocolate . The pralines and ganaches of Sigoji are worked according to ancestral methods in the respect of Cameroonian traditions . Your loved ones or your customers benefit from a unique and strong taste. A box of delicious artisanal and ethical Belgian chocolates makes it possible to offer an exceptional and original present .
What box of chocolates to offer for the end of year celebrations?
Christmas is the best occasion to offer a box of chocolates . Sigoji offers you three boxes of pralines and ganaches.
Box of "Discovery & Sigotruffles" ganaches and pralines
The "Discovery" box consists of 16 pralines, ganaches and caramels , with a refined and authentic taste. This box is ideal as a corporate gift, for example, to thank its customers at the end of the year . The "Discovery & Sigotruffles" box contains the Signature , Ginger , Sigoji , Madagascar , Rice , Yuzu Lemon , Piedmontese and Came lait pralines .
In addition, you can choose two assortments of salted butter caramel Sigotruffles, old-fashioned butter or cognac pear to enhance your box of chocolates.
Box of chocolates "Prestige & Sigotruffes"
The "Prestige" box contains an assortment of 35 pralines as well as two assortments of salted butter caramel, old-fashioned butter or cognac pear Sigotruffles . The delicious pralines are pure and infused coffee, tea and mango-passion ganaches , salted butter or vanilla caramels and pralines with almonds , hazelnuts and peanuts . This gift box allows you to please someone whose tastes you don't know , but to whom you want to offer a little something.
Box of "Gastronome" pralines
The "Gastronome" ballotin, the largest box of pralines offered by Sigoji, is made up of 64 pralines of 16 different tastes . It's an explosion of unique flavors!
This gift box is perfect for chocolate lovers . It contains crispy pralines , caramels , pure ganaches and ganaches infused with coffee, tea or mango-passion .
Learn more about Sigoji Chocolate Gift Boxes
If you would like to know more about Sigoji's Belgian chocolate boxes , contact us by phone or via the contact form .